My favorite fights of Antonio Rodrigo Nogueira's Legendary career.
July 10th we will celebrate the career of Antonio Rodrigo Nogueira as he gets inducted in to the UFC Hall of Fame. No fighter deserves it like this man does. He has been around since the beginning of the sport. Put on some of the best match ups of all time that will always be talked about. He has helped train some of the best. He was a champion in Pride. He was a champion in UFC. Nobody can argue that he shouldn't be in the hall of fame.
Big Nog has been entertaining us with excitement for years. He has taught us what true fighter spirit is. There was no challenge that Minotauro would back down from. We all have our own moment where this man inspired us. These are a few of my favorite moments of the Legend Antonio Rodrigo Nogueira
#7 Brendan Schaub at UFC UFC 134
Brendan Schaub was a a guy that was coming off a win over Cro Cop and on a great winning streak. I included this fight because this is one of Minotauro's wins later in his career. He proved that he could still stand in there with the young guys and that he will always be on of the baddest men on the planet. This time he got the job done with his hands. It was knock out of the night and a big deal having the UFC in Brazil. Fun fight, awesome finish.
#6 Mark Coleman at Pride 16
Mark Coleman was the father of ground and pound. But in this fight Nogueira showed us just how effective bjj could be used in MMA. Even strong wrestlers with great top control could get caught in a submission. This fight symbolizes what Minotauro means to me. A Pioneer of BJJ in the heavyweight division. He changed the game with the way he fought. Nobody was safe in the guard of Minotauro Nogueira.
#5 Bobb Sapp at Pride Shockwave
This fight was so exciting because it was a real life David vs Goliath scenario. Bob Sapp Towered over Nogueira but Minotauro did not shy from the fight.
In the opening seconds of the fight he shot for a take down on the big man. Sapp lifted him up and slammed his head into the ring Pile Driver style. The commentators went wild. We all worried for Big Nog. But he was able to survive.
The long 10 minute pride first rounds allowed Minotauro to weather the early storm and let Bob tire himself out.
This fight symbolized what people love about MMA. The smaller man using his skill and will to overcome the size of a bigger man. This was true martial arts. It felt like it wasn't real, like you were watching a movie. Go back and rewatch this fight. You will love the heart and the tenacity. We will never see fights like this again in modern mixed martial arts. That's why it's number 8 on my list.
#4 Mirko Cro Cop at Pride Final Conflict 2003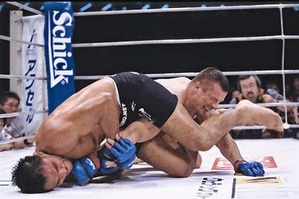 Next we have a legendary grappler vs striker match up. These were the two best heavy weight at the time(besides fedor).
This time Mintotauro would be up against a similar sized man, but one with a reputation of having destructive knock out power. Nogueira was the underdog coming in to this fight. His best chance was fighting on the ground. Many thought he would be knocked out. But he proved again that he has one of the best chins in MMA.
After weathering a storm of strikes in the first round he was able to get him game going in the second. He caught Cro Cop in an arm bar giving the Croatian his first ever loss. Once again he showed that Mixed Martial Arts is not all about hitting hard.
#3 Tim Sylvia at UFC 81
This fight was so important because it symbolized the unification of Pride and UFC. For the longest time fans had wondered. Who had the baddest heavyweights on the planet. This fight helped partially answer that question. Minotauro came out in his usual style, getting hit and surviving. No one could break Nogueira's will. But in the 3rd round Antonio shined in the way he always had. A man you could never count out of a fight. Antonio was the new UFC heavy weight champion. Pride never Die. Antonio Rodrigo Nogueira would have been considered the G.O.A.T heavyweight at the time if not for undefeated Fedor Emelianenko who to this day has not fought in the UFC. Minotauro always took the toughest fights. He wasn't scared of anyone. He wasn't going to let money stand in the way of testing himself. A true warrior.
(Watch a free version of the fight at UFC.com click the image.)
#2 Fedor Trilogy in Pride
These fights were so exciting because it was the two best heavyweights of the time fighting for G.O.A.T status. Fedor was the only unavenged loss of Nogueira's career outside of the UFC. These guys both fought in each others danger Zone. Minotauro had a dangerous guard. Fedor had dangerous top control. Both were able to nullify the other. Some might wonder why I included losses in my favorite moments list. It is because we love fighters even in losses. Going to decision against Fedor was no easy task. These fights cemented both men as the best heavy weights ever. Mintoauro proved that the guard worked in MMA it put him on the losing side of the decisions but we still loved seeing his style. If you were a big pride fan, you will never forget these fights.
#1 Couture at UFC 102
My personal favorite fight of Antonio Rodrigo Nogueira's is when he faced The Natural. For years we wondered what would happen if these two fought in the octagon and finally we had our wish. This fight feels like a period piece to me when I go back and rewatch it. To me this symbolizes what mixed martial arts was in that Era when they were at the top of their division. It was a time before movement coaches, and crazy spinning kicks. But this fight didn't feel any less complex. It was a beautiful display of striking, dirty boxing, wrestling, off the cage, bjj. All of the things that were most successful in those early years. Evenly matched they fought for 3 rounds, like 2 masters giving a lesson. Minotauro edged him out in the decision and he had him hurt. I would have loved to see another 2 rounds on this fight.
What do you guys think? Leave a comment or mention us on Twitter @MMAFanJesse #MMANERDZ