MMA Fighters are entertainers at heart. The sport of mixed martial arts requires a person who is a mix of an athlete and an entertainer. Their larger than life personalities allow them to excel even outside of sports. We are going to look at 7 times when A fighter was being an entertainer more then an athlete. These are fighters who explored other options then fighting and took a chance in the world of acting. We love seeing martial artists accepted in a mainstream way like this and that's what inspired me to make this list of the best MMA Fighter Movie Appearances
#7 – Bob Sapp in The Longest Yard
I loved this character before I even knew who Bob Sapp was. I saw this movie in theater way back in 2005 and the idea of him being a big strong mean guy with very sensitive feeling was hilarious to me. Now that I know who Bob Sapp is it makes it even better. He played the character so well because I believe that is what he is like in real life. A beast but a sensitive one. There are not many actors in the world you could get to play a role like that and do it so well. He is the type of fighter who might actually be a better entertainer than he is fighter. When it comes to commercials or movies appearances and even press conference you can rely on Bob Sapp to bring the fun. So that's why I give Bob Sapp the 7th spot on my list. He was the first MMA fighter I ever saw in a movie and he made me laugh. I would love to see him playing comedy roles in the future. He has had some other roles in movies like Elektra and Conan but I think where he shines is comedy. Hopefully we get to see more of him in the future.
#6 – GSP in Captain America: Winter Soldier.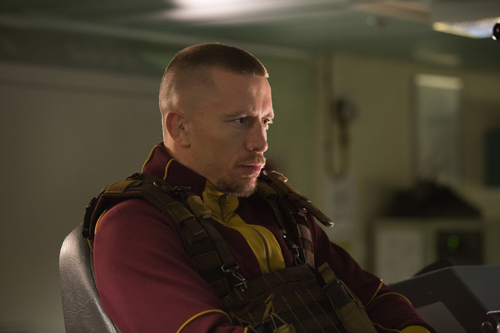 Georges St. Pierre has been a fan of superheroes since he started reading about them as a kid. That is why it makes made sense to play Batroc the Leaper, a french mercenary and martial artist. When asked he said it was a "Perfect roll for me". But this was his first time stepping out of his comfort zone of being a athlete into being an actor in a big name film. He said he had fun doing it, and especially playing the villain. Which is a change from his normal personality. It was certainly fun for us as well seeing everybody's favorite martial artist squaring it off against Captain America. He didn't have much to say in this film. What he does say is in french so I am not really qualified to judge. But the action of the movie was great and it was well coordinated fighting scenes. Another reason this movie makes it on the list is seeing GSP with a Moustache and Goatee. This movie did great at the box office but it's not a big enough part for me to put it any higher on my list. Hopefully we will see more of GSP in his upcoming role in the reboot of "The KickBoxer".
#5 – Randy Couture in Expendables

The natural was one of the first ever MMA stars to cross over from the sport on to the big screen. He has notable moments where he is keeping dialogue with the likes of Sylvester Stallone, Jason Statham and Terry Cruz about his cauliflower ear. He shared the stage with many great action movie stars. He even got called back for the sequel. When asked what it was like he said it was very surreal strapping up with guns and running around with the nostalgic characters. He has a fight scene with Stone Cold Steve Austin. You don't have to imagine this fight any more because now you can see the awesomeness of the natural catching Steve on fire. Randy did a lot of promotion for this fight and he took the portrayal of his character very seriously. This one makes #6 on my list because Randy shows off his acting chops, his action chops and also this movies sold very well and The Natural seemed like a really good fit. We hope that Randy can continue having a movie career now that he is retired from MMA.
#4 – Ronda Rousey in Fast 7, and Expendables 3

Ronda is probably the most well known fighter to go and do movies. She is one of the UFCs biggest stars and I think that it partially because of the roles she has played in big movies. She has an incredible knack for coming off as being extremely tough but also very pretty. Everybody loves a strong female character. She got started in expendables 3 and she said it made her believe that she could do it. It worked out for her because she got even more roles. She got to fight Michelle Rodriguez in Fast and Furious 7 and it was an awesome scene with a line that stuck. "You're not that charming, Bitch." She is funny, she's tough she's hot, what's not to like. whether she will fight or not is still in limbo, but one thing is for sure. We would love to see her in more movies, and we think that she has what it takes to be a star even if she is not the UFC world champion.
#3 – Rampage Jackson in A-Team

Quintin has always excelled in personality outside of the octagon. He always has a way of viewing things in his own perspective, cracking jokes, and generally entertaining the viewer. His personality shined through in A-Team and he made the perfect B.A Baracus. He said in an interview that other actors were auditioning trying to be like Mr. T. He made B.A a mixture of himself and his father. Two of B.A Baracus' biggest fans. and it worked because he ended up getting the part and becoming a lovable character. At first he was nervous only ever being on B and C movies, this was his first time in a legit movie. Eventually he got over that and was able to get in to his part. He believed in his work and he believed in the film. We all thought he was going to be the next action star. Even Mr.T liked Rampages role as B.A Baracus. Some speculate the reason he hasn't done other movies is because of contractual issue with the UFC. We hope that he will be back in movies because his personality and appearance is perfect for many action movies. It was a difficult main role to have but he succeeded.
#2 Josh Barnett in Never back Down 3: No Surrender

We've always known Josh Barnett had the personality to get peoples attention and entertain, so it wasn't a surprise when we found out he was going to be taking on an acting role. I was pleasantly surprise with how it turned out. Never Back Down is a series that uses some MMA elements in a street fighting/prize fighting setting. If you don't like the first 2 I still urge you to watch this movie. Just give it a chance. It touches on what it might be like to work for a dirty promoter in a league that not on allows PEDs but encourages them. Josh Barnett fought in pride which in some ways could be considered similar. He was the perfect man for this role. For this movie he is the lightheartedness that balances Michael Jai White's heavy persona. These 2 do the bulk of the dialogue and pretty much carried the whole movie. Good action, Good fight scenes. Good acting. I know this was sort of a B movie compared to others on the list but I am still going to give him #2 spot because I enjoyed his performance in this movie.
#1 Gina Carano

The original queen of women's MMA fighting. She retired from MMA to pursue a career as an actor. Since losing her title to Cris Cyborg she has been able to successfully completely transition out of MMA and in to an acting career. Like Ronda Rousey she was featured in one of the Fast and furious movies. More recently she played an important role in the largely successful Deadpool movie. She has even played as the leading role in a movie in 2011's Haywire. She was the bad ass before Ronda came on to the scene. Now adays she seems more like an actor than a fighter but we still consider Gina Carano a fighter at heart. But that doesn't mean she's ever coming back. Her future in movies is still looking bright. Like GSP she is spotted to have a role in the reboot of the Kickboxer franchise. All said I think Gina has the most acting experience and is the most successful MMA fighter to ever make the transition to the big screen. That's why she makes number 1 on my list.
What do you guys think of this list? Leave a comment I would love to hear other great moments and cameos from MMA fighter in movies. Or you can join the convsation on twitter. #MMANERDZ @MMAFanJesse.