When you ask the question – Who is the G.O.A.T? Some might say Lyoto Machida. He has stepped up and fought all comers and the very best in the world in 2 weight classes. A former champion with 8 performance of the night bonuses. Greatness has many forms, and sometimes Machida comes in different forms. Today we are going to analyze Lyoto's ever changing style of fighting. How he became undefeated, and how the fans shaped the evolution of his style.
Form #1(Base form): Baby-faced Machida

This form represents the undefeated era of The Dragon's career before the light-heavy weight championship. When he came into the spotlight of the UFC in 2007. He was advertised as an 8-0 "international star" the guy who beat Bj Penn, Stephan Bonnar, and Vernon White, the first to KO Rich Franklin.
His first three wins would be by Unanimous Decision. His karate style consisted primarily movement, parrying, and counter striking. People were imediately split on him – some called him revolutionary, others thought he was a boring point fighter. But in all of those fights Lyoto had his moments when he shined.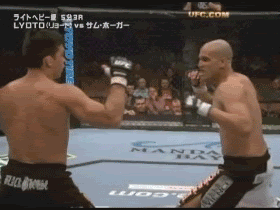 "He's got a very intelligent style, because he's moving away from any damage to himself, but then he's also commiting to attacking" – Joe Rogan with hair @ UFC 67

Machida(9-0) weighed in at 199 against undefeated David Heath (9-0)
At UFC 70 Joe Rogan uses the word "elusive" 4 times early in the broadcast, this would become a mainstay when describing Lyotos style. Fight Metric has The Dragon only taking 8 shots in that fight, giving David a 17% strike accuracy. The Dragon connected with 67 strikes, landing 2/3 of his attacks. Eddie Bravo was on the broadcast team and called Lyoto "boring"

"Not to many people have payed attention to me in the light-heavy weight division. I am undefeated and I plan on staying that way. After tonight you'll see that I have the power to knock anyone out in this division" Lyoto Machida UFC 76
At UFC 76 The Dragon finally weighs in at 205. Joe Rogan calls him elusive within 10 seconds of his walkout, then again 30 seconds into the fight. Says he's been training with the great Anderson Silva. Says he thinks Lyoto knows he needs to be more exciting to earn money in the UFC. Machida comes in noticeably more agressive in this fight. Pushing forward to the cage and going for trips.
Mike Goldberg hints at pressure from Dana to be more exciting. The Dragon took more damage in this fight and it was the first time we saw him be taken down. But it was also his most agressive fight yet. He really pushed for the finish in round 3 but can't pull it off and win another UD.
What happens next? Tune in next time…