Year after year the UFC is getting bigger. More eyes on the octagon means more stars in our sport. This is my list of The Next Generation of stars for the UFC. Hope you enjoy
Fly Weight (125lb)
Age: 25 Record: 11-1-0

"Da Last Samurai" Louis Smolka is only 25 and already has 6 UFC fights. Already has 2 performance bonuses. He is an exciting fast paced fighter who has finishing power in a lighter division.
He is well rounded and already experienced. The Hawaii native is only going to get better, and we predict that we will see him in the top 5 of the division.
Not only is he a great fighter but he has got the personality to make it far. He is always available for MMA media and keeps up with his social media. If the UFC isn't going to push this guy they are crazy.
He feels like he is over looked in the division but he will have a chance to show everyone what he is about when he takes on another up and coming prospect Sergio Pettis. and this brings us to our next fighter on the list.
Age: 22 Record: 14-2

Sergio Pettis is the youngest fighter on this list. He is only 22 and is already becoming a name in the UFC.
He's got a wopping 7 fights in the UFc already with 2 performances of the night.
He is only just starting to hit his prime. At first he was klnown as Anthony Pettis' little brother but with his performances he has quickly put himself on the map as belonging in the UFC and being able to hang in there with anyone in that division.
We are going to find which of these prospects are going to make the leap into the deep end of the division after they face each other on October. 1st.
Either of these Flyweights could be the champion in the upcoming years. Of course they will have to get through "Mighty Mouse" Demetrious Johnson first.
Bantom Weight (135lb)
Age: 25 Record: 9-0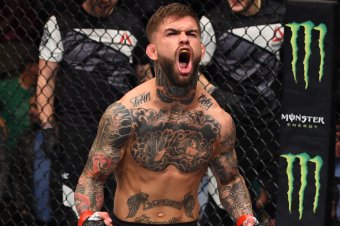 Team Alpha Male has always had elite fighter fighting in the UFC, and Cody Garbrandt is another one of their prospects.
He is an undefeated 10-0 in the UFC and he wants to make run for the title. No Love has been calling out all of the top guys in the bantam weight division, and after his win over Takeya Mizugaki on August 20th he is gunning for the top of the division Dominick Cruz.
The current champion Cruz has recently had a beef with Team Alpha male guys. It started with Urijah Faber. He has had a fight with former Alpha Male Tj Dillashaw and now Cody Garbrandt is calling him out for his shot at the title.
He might need one more fight before he gets his title shot, but at his age he has plenty of time to break through.
Age: 26 Record: 28–7

Jon Linker is one of the most exciting fighters in the entire division since moving to bantam weight.
He was having trouble making weight at 125lbs and after missing weight several time he took his place in the bantam weight divsion with consecutive wins over top opponents such as michael mcdonald.
He lives up to his nickname "Hands of Stone" being one of the heaviest handed small fighters in the world. He is fast and explosive and if he touches you on the chin you will go to sleep. He has a good chance against all of the top of the division and I think we are all excited to see what happens next for John
Feather Weight (145lb)
Age: 24 Record: 16-3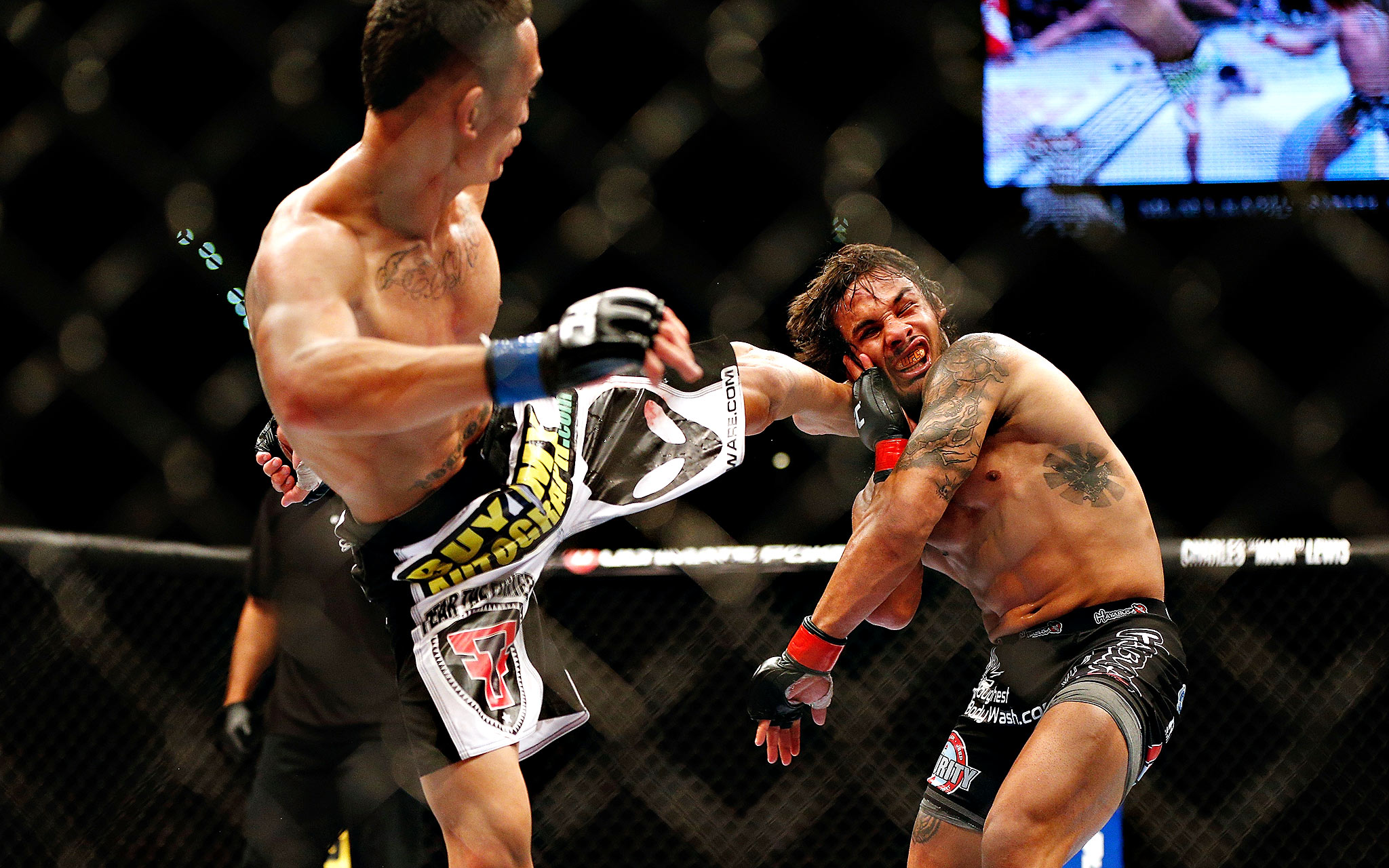 Another great Hawaiian prospect is "Blessed" Max Hollaway. He already has 15 UFc fights and he's only 24 years old and a veteran at this point. He has got youth and experience.
He is on one of the best streaks of the division. winning 9 fights in a row against some of the top guys in the division. He hasn't lost since losing to the current feather weight Champion Conor Mcgregor.
I have no doubt that his personality and fighting style will propel him to the top of the division. He has many years left to become a champion, and in my opinion he has already earned his shot at the belt.
Age: 23 Record: 8-1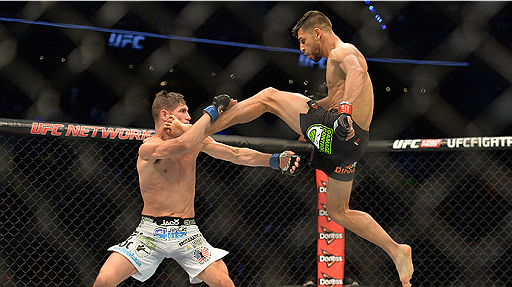 Yair rodriguez is only 23 years only and already has a highlight reel. He's 8-1 and has been picking up steam recently because of his exciting fighting style.
He was the winner of the ultimate fighter latin america 1, and since then he has fought some tough competition and looked great. He has won 4 in a row and has already earned himself a performance of the night bonus.
You might not know this guy in North America because he is from TUFC latin Maerica 1. But he is proof of the talent that the younger generation of fighters have.
He put on a spectacular spinning show against Alex Cacares. It was an action packed exciting fight. But Bruce Lerroy played in to his game.
We are yet to see how Yair handles the seasoned Wrestler but I know that would be a fight I am excited to see. I think we will be hearing more and more about Yair Rodriguez in the years to come.
Light Weight(155lb)
Age: 29 Record: 19-1


He is a bit older than some of the other people on this list but he is still young and just making it in to the UFC.
His first fight was against fan favorite and dynamic striker Ross Pearson and he won that fight by a unanamious decision.
Ill Will was the Bellator FC champion and many people wanted to see how he would do against UFC calliber fighter. Much like Eddie Alvarez, Will Brooks has the potential to get himself a title shot and become a two organization champion.
I included him on this list because I think that his time is still yet to come. We are going to see him step up in competition in his next fights in the UFC. Right now he is in his prime and it could very well be his time to take the top spot in the Light Weight Division.
Age: 32 Record: 21-3

Tony Ferguson is the oldest person that I included on this list. Some might say that he is too old to be the next generation but he is a guy who is just getting in to his prime and could be the next champion for years to come.
El Cucuy is on a 4 fight performance of the nigh bonus streak. He is on a 8 fight winning streak and gunning for the title. I think that Tony could be a champion that reigns for many years.
He is right on the cusp of making it big time. It's almost unfair to say he is the NExt Generation because Tony Ferguson is already here.
Welter Weight(170lb)
Age: 24 Record: 12-2

When talking about young up and coming fighters you can not leave out the name Kelvin Gastelum. At the age of 24 he has already made a huge impact on the WW division and is well on his way towards a title shot.
He started fighting professionally when he was only 18 years old. After ammassing a perfect record of 5-0 he was chosen to be on The Ultimate fighter Jones vs Sonnen. He was picked last on this season but went on to win the tournament. Propelling him in to the big stage of the UFC.
Since those days he has been in there with some of the best fighter ever in the Welterweight division. defeating former champion Johnny hendricks. He still has a long way to grow and a long career ahead and we are excited to see what he does next.
Age: 27 Record: 18-4

As a Canadian, it will come to no surprise that I am a big fan of Rory Macdonald.
He has been on the map of prospects for quite a long time because of GSP mentioning him as his protege. He has 13 UFC fights and has fought most of the top 10 guys already.
The Red King has had his shot before but he is still only 26 and I wouldn't be surprised to see him champion in the future. He has proven his is one of the top fighters. That he is well rounded. and that he has the heart to stay in there.
Now that GSP is gone. Rory is the King of Canada.
Middle Weight(185lb)
Age: 25 Record: 16-4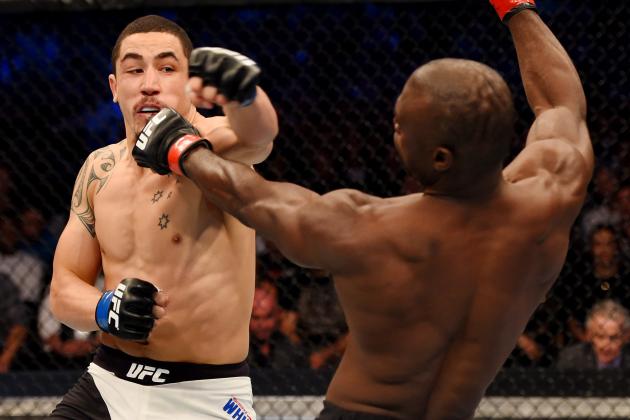 Robert Whitake is another TUF fighter that is living up to the hype of winning the tournament. He won The Ultimate Fighter The Smashes and since then has been on a tear looking better every fight.
This guy is a true prospect in the Middle Weight Division and at 25 I think he is just starting to come in to his own as a fighter and he as already defeated veterans. A few more wins could catapult him to the top of the division.
Robert is quickly becoming a big draw in Australia where he is from and where he has fought most of the time. With a little bit of push from the UFC I am sure he has all the talent he needs to become a star.
Age: 28 Record: 12-1

Elias Theorou is a Canadian sweet heart. With his long hair and young girl fan base. It is safe to say he is the Justin Bieber of MMA.
This guy is very active on social media and responds to his fan base. I think this helps grow his personality. If he works half as hard on his skills as his social media he will be one of the best.
It's Slim pickings when it comes to Canadian fighters in the UFC, and because of this Elias is fairly popular in the Great North. He is only 28 and 12-1. The Sky is the limit for The Spartan.
Light Heavy Weight(205lb)
Age: 28 Record: 22-1

Jon "Bones" Jones is a legend of the sport already. Some might say that he isn't the next generation but I think he is.
Jon is still only 28 years old, not even at the prime of his career yet. He has been out of the octagon recently because of many personal things going on in his life. But that doesn't mean he won't make a come back.
Some consider Jon Jones the best fighter in the world. I think he still has more than enough time to make a return after his suspension and make another great run as a champion. We have only got a taste of Jones so far. The best could be yet to come.
We hope the best for Bones and hope he can get his act together because he could still be the next generation of the LHW division. That is just how far he is ahead of everyone else.
Age: 29 Record: 16-4

I found when I was doing this blog the higher the weight class, the harder it became to find young prospects. It could be just me but that is my perception.
That brings us to Alexander Gustafsson. He is 29 and might be considered a veteran at this time by some. He has come over tough times in his last few fights but just look at the guys he has been fighting. I can see Jones and Gustafsson meeting again sometime in the future.
He still has a lot of fight left in him and he is one of the younger guys in the division. Don't shake your head at Alexander because I think he may just surprise you. He could beat Jones or Cormier on a good night.
Heavy Weight(205lb)
Age: 29 Record: 14-1

This russian isn't as well known as some of the others on this list but wait for him to make a splash.
Ruslan Magomedov defeated the former UFC heavy weight champ Tim Sylvia and made the UFC and has been winning ever since. He is still relatively untested compared to some fighters. But his 14-1 record shows that he is atleast consistant. One of the few under 30 guys around in the HW division right now.
I hope he gets a good step up in challenge for his next fight and we will see if he is going to be a top 10 or future champion.
Age: 28 Record: 27-8

"The Sky Scraper" Stefan Struve has already fought some of the best in the world. But he is only 28! Since the heavy weight fighters all seem to make a resurgence later in life. It might be fair to say that Struve has a long career left in him.
He is one of the tallest fighters ever and he is a slick fast heavy weight who is always getting better. He has a huge record for his age. One of the youngest heavy weights around, he has all the potential.
At the top of the heavyweight division are nothing but beasts but I think that Struve belongs right up there with them. I would be surprised to see Struve as the heavyweight champion in a few years